meet the leadership team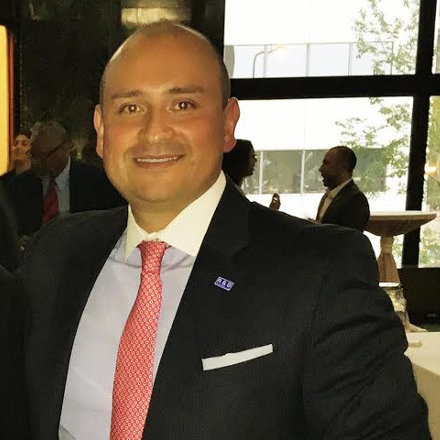 Richard A. Rivera P.E.
President/Resident Engineer
Mr. Rivera founded R & G Engineering LLC in 2007 and has grown the firm to 25 full-time engineers and support staff. R & G has successfully completed a variety of projects, including the management of road and bridge construction projects for Illinois' major transportation agencies, toll plaza and commuter rail station construction and utility and maintenance of traffic coordination. R & G Engineering LLC has been recognized as a leader in the industry having received the following awards:
Who's Who in Chicago Hispanic Business – 2014, 2015
Hispanic American Construction Industry Association – 2012 Professional Service Firm of the Year
Minority Business Development Association – 2010 Midwest Regional Contractor of the Year
Society of Hispanic Professional Engineers UIUC Chapter – 2011 Alumni of the Year
Illinois Hispanic Chamber of Commerce – 2010 Business of the Year
Great Dallas Hispanic Chamber of Commerce – Nominated for 2010 Entrepreneur of the Year
Society of American Military Engineers 2009 Small Business Olympics – Gold Medal Winner
Mr. Rivera, President of R & G Engineering LLC, possesses a wealth of engineering and project management experience through many diverse projects. He continually demonstrates the ability to perform complicated procedures and prioritize tasks, without losing sight of important details. Rick has supported teams that have managed an array of transportation projects including work on the Dan Ryan Highway Reconstruction, Tri-State Tollway, and Ronald Reagan Memorial Tollway. He also has extensive experience as a Construction Manager and as a Project Supervisor with agencies such as the Nicor Gas Co., Chicago Department of Transportation, Illinois Department of Transportation, Illinois Tollway and Metra.
Prior to founding R&G Engineering, Rick held positions at Burns and McDonnell, Cotter Consulting, and Nicor Gas Company. Rick holds a Bachelor of Science in General Engineering from the University of Illinois at Urbana-Champaign and is a licensed Professional Engineer in Illinois, Texas and Wisconsin. He continues to take an active role in the University of Illinois Morrill Engineering Program. R & G provides annual scholarships, internships and mentoring services to minority undergraduate engineering students.
Daniel J. Griffin
Vice-President
Dan Griffin has extensive civil engineering management experience. Managing programs and projects for various agencies over the years has afforded him a wealth of experience. As a Project Engineer for the Illinois State Toll Highway Authority, he demonstrated his ability to manage the overall contract administration on a wide range of Tollway Construction Projects (roadways, bridges, buildings). Dan supervised engineering consulting firms retained by the Tollway to perform construction inspection services and was responsible for consultant contract negotiation and budget management. He also managed a variety of City and IDOT construction projects as a Resident Engineer for the Chicago Department of Public Works, Bureau of Construction Management.
Managing projects with so many different agencies over the years has afforded Dan a keen understanding of the client's needs, as well as that of the prime consultants. He is respected for his solid working relationships, his ability to oversee several projects at once and his responsive, hands-on management approach.